The real estate boom brought many new residents to the Land O Lakes area along with a few businesses. Unfortunately, the recession caused some business to close down and halted the building of other businesses in the area. Well, times have changed and businesses are back. Strategic Properties has three properties along U.S. 41 & S.R. 54 that are poised to deliver new restaurants, retail and offices.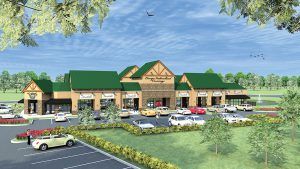 Rendering courtesy of Strategic Properties
The first is Camp Indianhead Crossings, located on S.R. 54 at Camp Indianhead Rd near Pep Boys. The first announced tenants are Hungry Greek and OTB Cafe. The developer is also in negotiations with a national restaurant chain for a third dining spot at the location. A hair salon and nail salon are also anticipated, along will several offices. The building is expected to be completed by the end of the year with shops opening in February and March.
The second location that Strategic Properties is planning is Land O Lakes Landings, located on U.S. 41 about a mile south of S.R. 52. This would be developed along with a new community from Ryan Homes on the land which was formerly the Lester Dairy Farm. Construction is planned to begin in 2018 for this shopping center.
The third location in the works is Lake Thomas Crossings, located on U.S. 41 just south of Ehren Cutoff. Construction is likely to begin in 2017 on the 16,000 sqft shopping center. No tenants have been confirmed for this location as of yet.
It's great to see new businesses in the area, especially some much needed restaurants.
For information on homes in the Land O Lakes area, or anywhere in Tampa Bay, call Lyndie House at (813) 317-4300 or start your home search now.