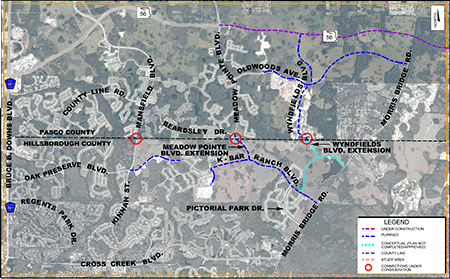 If you live in Wesley Chapel or the Crosscreek area, you may have heard of the road that almost connects but is blocked by a barricade between Hillsborough and Pasco Counties. There have been lots of stories on this connection but the counties haven't been able to come to an agreement about connecting these two roads in the past. This road and two other are now being discussed as possible connections between Hillsborough and Pasco County. The first connection, which just needs a barricade removed and a small patch of asphalt laid, would connect Kinnan St (near Live Oak Preserve and Bassett Creek) with Mansfield Blvd (Meadow Pointe). The other two connections, which would require a little more work on Hillsborough's side, would connect K-Bar Ranch with Meadow Pointe Blvd and Easton Park with Wyndfields Blvd.
Click here to see a map of the study area, including potential connectors.
The Metropolitan Planning Organization, the organization responsible for transportation planning in Pasco County, is holding an open-house style public information meeting for anyone interested in the roadway connections. The purpose is to gather public comments and other information that will be useful in the study. The study will identify the issues, opportunities and potential impacts from these roadway connections to Wesley Chapel.
If you would like to attend, here's the info on the open-house:
WHEN: Tuesday, April 18th 5:30pm - 7:30pm (Summary at 6pm)
WHERE: Pasco-Hernando State College 2727 Mansfield Blvd, Wesley Chapel
This will be the first public meeting being held in conjunction with the study. Representatives from Pasco County Planning and Development, the MPO and the consulting team will be available for comments.